Coffee County, Tennessee
Records Transcribed and Indexed by the WPA
Catalog number COCT-WPA-1
---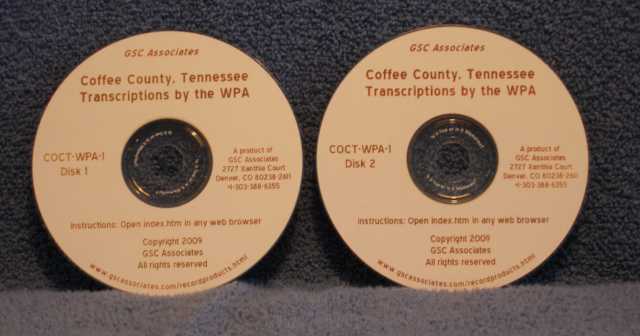 Publication COCT-WPA-1 consists of two CD-ROMs containing the following sets of transcribed and indexed Coffee County, Tennessee records:
Will Book, Vol. 1 1833-1860
County Court Minutes, Vol. 1 1836-1841
Marriage Records, Vol. 1 1853-1862
Marriage Records, Vol. 2 1863-1870
Marriage Records, Vol. 3 1870-1886
Bonds and Settlements 1858-1868
Bible, Family & Tombstone Records
The records are fully indexed. The indexes to these records are available on-line.
All pages in this publication can be directly accessed by page number - no need to search through a roll of microfilm to find the page of interest. Pages can be printed directly on most printers attached to your local computer - no need to pay the high copying costs at a library or archives and accept the poor quality prints produced by most microfilm printers. This is the first time that these records have ever been made available to researchers on a media other than microfilm.
The page images contained in this product were prepared from microfilm published by the Tennessee State Library and Archives (TSLA) on Roll 13 of Record Group 107. Record Group 107 contains county records transcribed and indexed by the Works Progress Administration (WPA) in the 1930s.
Before ordering, you should review the license agreement. Order here.
---
GSC Associates
2727 Xanthia Court, Denver, CO 80238-2611, +1-970-333-0802 (phone)
E-mail: info@gscassociates.com
Home page of GSC Associates Historical Record Products