A copy of a single Bedford County, Tennessee, Deed
from Deed Books A - III
Catalog number BCT-DEE-1
---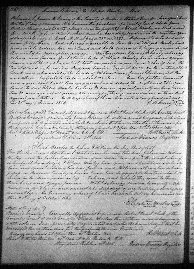 (Example: Book NN, Page 367, Elijah Woosley to Joshua Woosley and William Woosley)
Click on the above thumbnail to see the full size (1 megabyte) JPEG Image.
An electronic copy of a single Bedford County, Tennessee Deed sent to you by e-mail as JPEG image(s) of the pages from the deed book. Only copies of deeds in Books A (1808) - III (1872) are available. This service typically takes only 1 business day, while competing services take 4-6 weeks.
The following information (usually acquired from a deed index - see BCT-DEI-1, BCT-DEI-2, and BCT-DEI-3) is necessary to place an order:
the names of the grantor (the person selling the property) and the grantee (the person purchasing the property), and
the deed book and page number
Example:
grantor and grantee: Thomas Martin to Samuel Morris
book and page: AA 231
To keep the costs of this service low, copies are provided by e-mail only. Printed copies are not available, however the JPEG images can be readily printed on most inkjet and laser printers. The page image files are approximately 1 megabyte each in size, so you should be prepared to receive files of this size as attachments to e-mail before you order. One image file is sent per e-mail message, so orders that involve multiple pages will be filled by multiple e-mail messages.
Sometimes the information in deed indices is incorrect. We will make a reasonable effort to locate a mis-indexed deed. Also, sometimes pages are missing from either the original deed books or from the microfilmed copies of them. Should we fail to locate a deed that you order, you will be notified by e-mail and your purchase price will be refunded. We will provide a copy of all pages that are part of a given deed. Typical deeds are from one to three pages in length.
Competing services, such as the one offered by the Tennessee State Library and Archives (see TSLA) cost $10.00 and take 4-6 weeks to furnish a paper copy of a single deed.
The page image(s) we e-mail you were prepared from microfilm published by the Tennessee State Library and Archives (TSLA). The original microfilm for deed books A through III is on Rolls 106 - 127 of the Bedford County, Tennessee microfilm at TSLA. We have already created digital images of all the deeds on this microfilm. We can access any deed very quickly in this digital library, so we do not have to retrieve and mount a physical roll of microfilm and search that film for the deed. Because of this, the cost of this service is very reasonable.
Before ordering, you should review the license agreement.
---
Home page of GSC Associates Historical Record Products