Bedford County, Tennessee, Deed Index, Volume 2, 1840-1875
Catalog number BCT-DEI-2
---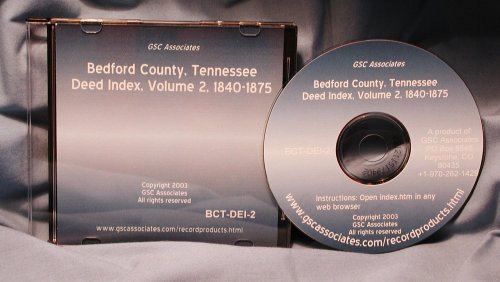 The CD-ROM Bedford County, Tennessee, Deed Index, Volume 2, 1840-1875 contains two indices, one direct and the other reverse. The index is 519 pages in length and is semi-alphabetical, so each page for the first letter in a surname must be checked to look for a given surname.
Using deed indices is essential to identify records of transactions involving land and other property. You can review an extract from this product here. This extract includes all the front material for DEI_2 as well as the full first page of the direct index for the letter A. A tutorial on how to use the information in deed books is located here.
The types of records recorded in early deed books include:
Each page of the index is organized into columns with the following headings (see an example here):
Grantor (seller) (this column is first in the direct index and second in the reverse index)
Grantee (buyer) (this column is second in the direct index and first in the reverse index)
Instrument ( Deed (D.), Trust Deed (T.D.), Grant, Bill of Sale (B.S.), Power of Attorney (P.A.), Mortgage (Mtg.), Agent , Bond)
Year
Deed Book (Books KK through LLL in index Volume 2)
Page (the page number of the first page of the instrument).
Once a deed of interest is identified in the index, a copy can be ordered (using the grantee, grantor, deed book name, and page number from the index) from GSC Associates (see BCT-DEE-1), the Tennessee State Library and Archives, or the Bedford County Registrar of Deeds (931-684-5719). (In the near future, GSC Associates Historical Records Products will also be publishing all of the early deeds of Bedford County, Tennessee on CD-ROM)
The types of information found in records recorded in deed books include:
All pages can be individually accessed - no need to search through a roll of microfilm to find the page of interest. Pages in the direct and the reverse indices are individually linked in order within this publication while pages in the original document alternate between pages from the reverse and the direct indices. Pages can be printed directly on almost any printer attached to your local computer - no need to pay the high copying costs at a library or archives and accept the poor quality prints produced by most microfilm printers. For less than the non-refundable $10 fee that is charged by the archives to search for a land record during a given five year period, you can own an index of all the deeds for a thirty-five year period!
The page images contained in this product were prepared from microfilm published by the Tennessee State Library and Archives (TSLA). This original microfilm is on Roll 106 in the Bedford County Record Group at TSLA. The document contained on the microfilm and in the images in this publication is the handwritten original index.
Before ordering, you should review the license agreement.
---
Home page of GSC Associates Historical Record Products